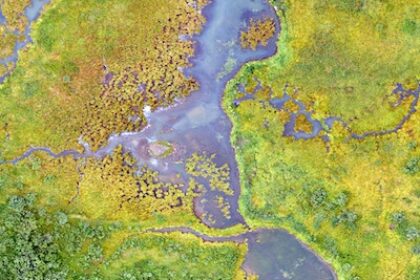 Wetlands are vital components of the natural landscape, providing important ecosystem services such as water filtration, flood control, and habitat for a diverse array of plants and animals. In Illinois, wetland resources are protected under state and federal regulations, including the Illinois Wetland Protection Act and the Clean Water Act. These regulations require that wetlands be identified and protected before development activities can take place. This process, known as wetland delineation, is a crucial step in protecting Illinois' natural resources.
Wetland delineation involves identifying the boundaries of a wetland and determining its functional characteristics. Wetlands are typically defined as areas that are inundated or saturated by surface or groundwater at a frequency and duration sufficient to support the growth of hydrophytic vegetation. Hydrophytic vegetation, also known as wetland plants, are adapted to growing in wet or flooded conditions.
There are several methods for conducting wetland delineations, including field observations, soil analyses, and vegetation surveys. Field observations involve physically visiting the site and examining the presence of hydrophytic vegetation, hydrology, and soil characteristics. Soil analyses involve collecting and analyzing soil samples to determine the presence of wetland indicators such as hydric soils and peat. Vegetation surveys involve identifying and classifying the plant species present on the site.
In Illinois, wetland delineations are typically conducted by qualified professionals, such as wetland scientists or biologists, who have training and expertise in identifying and evaluating wetland resources. These professionals use a combination of field observations, soil analyses, and vegetation surveys to determine the presence and boundaries of a wetland.
Once a wetland has been identified and its boundaries have been established, the wetland can be protected through a variety of measures. These may include regulatory restrictions on development activities, conservation easements, or voluntary conservation efforts. Wetland protection is important not only for the ecosystem services that wetlands provide, but also for the numerous economic and social benefits that wetlands contribute to communities.
For example, wetlands can provide important recreational opportunities, such as bird watching, hiking, and fishing. They can also support local economies through tourism and outdoor recreation. In addition, wetlands can provide valuable habitat for a variety of plants and animals, including many species that are threatened or endangered.
In Illinois, wetland resources are an important part of the state's natural landscape, and wetland protection is a crucial step in preserving these resources for future generations. By conducting wetland delineations, we can identify and protect these valuable resources, ensuring that they continue to provide the many benefits they offer to communities and the environment.
Why Should I Care About Wetlands in Illinois?
Providing habitat for wetland flora and fauna has an intrinsic value as we described above. However, as so much of life is dictated by the political inclinations of our government, we are subject to its rules and regulations. We may disagree politically, but you can't deny the government has the last say in the matter.
So on a more positive note, the purpose of an environmental consultant such as A3 Environmental Consultants is to make sure you don't purchase a property that is encumbered by a wetland that precludes you from doing what you want with it. So much of what we do happens in the period of time between signing a contract to buy commercial real estate and the time the property is actually purchased. This due diligence time period is when wetland delineators are asked to research how a property might be impacted by wetlands and who we will need permits from in order to build.
So outside of the moral and ethical implications of habitat destruction, we help you avoid costly mistakes and extended time delays by giving you good advice before you purchase a property.
Are There Other Reasons To Care About Wetlands?
Yes. Wetlands are typically the lowest points on a property. They represent clues to where a property will flood and soils may not be suitable to put heavy buildings on. If it isn't an environmental consultant advising against building over a wetland, and if it isn't the regulatory bodies, it may be the geotechnical or structural engineers who tell you its a bad idea.
Call A3E for Wetland Due Diligence
Whether it's wetland screens, wetland confirmations, wetland delineations or a jurisdictional wetland determination, A3 Environmental Consultants can get your project done. Call (888) 405-1742 or email us at Info@A3E.com and let's talk about your project.