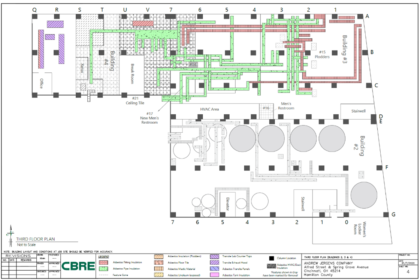 CBRE is a worldwide real estate services company headquartered in Dallas Texas with satellite offices in Oakbrook Illinois. CBRE is in the business of property management, sales and due diligence for property transactions. As such they employ many professionals who work hard to illuminate risks being taking by buyers and sellers of commercial real estate.
Asbestos Abatement Plans
A3E has been serving as a consultant for CBRE since 2019 providing CADD Services to draw the locations of Asbestos Containing Material (ACM) used in the construction of commercial real estate. Typically these drawings are used as guides for asbestos abatement projects. CBRE and their clients are particularly interested in building cost quotes for budgetary reasons when renovations or demolition plans are on the table. A3E CADD Asbestos Abatement Plans help protect health and human safety, especially of the construction contractors.
• Creation of building floor plans based on CBRE provided site surveys.
• Identify Asbestos sample locations.
• Note existing Asbestos material locations with unique indicators.
• Flag areas of concern for CBRE Asbestos abatement services.
• Calculate square footage of affected areas.
Client:
Location:
Services:
CADD – Asbestos Abatement Plans
Key Staff:
Sarah Clark – CADD / GIS
Duration:
2020
Value:
Various