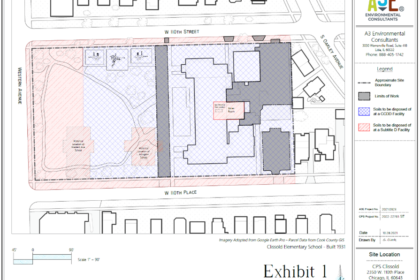 Chicago Public Schools (CPS) is the third largest school district in the United States and is entrusted with educating the children of Chicago Illinois. With a total of 658 schools servicing over 400,000 students, CPS aims to provide a safe, healthy learning environment for its students and staff. In order to maintain such an environment and to ensure a high-quality education, improvements in their facilities and underground infrastructure are being implemented throughout the school system.
Clean Construction Demolition Debris (CCDD) Figures
A3E has been providing CADD and GIS Services & Support to TEM Environmental Inc, a Managing Environmental Consultant (MEC) for regions 5 & 6 of the CPS system. Our responsibilities include creation of detailed Soil disposal Maps for over 50 capital improvement projects a year:
• Create detailed site maps from current aerial imagery and site plans of subject properties and adjacent right of ways.
• Reference design documents for accurate placement of limits of work.
• Review Fire insurance maps to identify and accurately depict areas of Subtitle D concern.
• Clearly notate any identified concerns on Exhibits per the standardized requirements of the CPS design specifications and environmental scope sheet package.
Client:
Chicago Public Schools (CPS)
TEM Environmental
Location:
Chicago, Illinois
Glendale Heights, Illinois
Services:
CADD – Clean Construction Demolition Debris (CCDD) Figures
Key Staff:
Sarah Clark – CADD / GIS
Duration:
2019 – 2022
Value:
Over $100,000 Annually