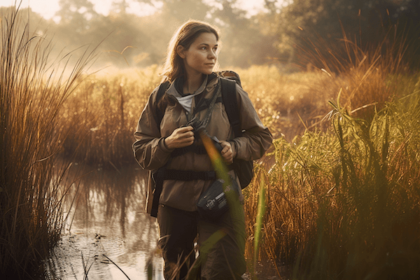 A full wetland delineation is a known quantity. It's an established report whose contents and format are done the same way by everyone who perform wetland delineations professionally. There are drawbacks to a full wetland delineation. They take time to schedule and complete. They are the most involved and therefore the most expensive option available. Often, they're the right tool for the job. But sometimes, a full wetland delineation is overkill for the needs of our clients. What they would like is something less, something faster and less expensive.
There are four major parts to a wetland delineation:
Wetland Screen Statement of Work
The wetland screen is the first part of the four components of a wetland delineation. Because it comes first, it's a good breakpoint to create a truncated product for special uses that our clients might have. A3E is in the due diligence business. Due diligence happens before a commercial real estate transaction closes and defines whether a property is suitable for the uses of a buyer, before the buyer has bought it. Sometimes the buyer needs a fast read on whether a vacant lot is buildable or if encroaching wetlands will alter, preclude or completely end their future plans. This is where the wetland screen, being fast and relatively inexpensive comes into play. Other forms of environmental due diligence include Phase I ESA, Phase II ESA, endangered species surveys and in this case, wetland due diligence.
A3E will perform the first step of a full wetland delineation and return a short report which will guide the buyer in the purchasing process. To be clear, this report is not good enough for the Army Corp of Engineers or the county stormwater agencies. It is, however, good enough to inform the buyers of a property to the difficulty of executing on their future plans.
Wetland Screen Deliverable
With your shortened wetland report you get an answer to the question of if A3 Environmental Consultants as wetland delineation professionals believes there are jurisdictional wetlands on the property. It's a yes or no answer. It includes a short report, generally less than 3 pages and a whole lot of data, charts, graphs, maps and so-forth as corroborating data. If the answer is "no wetlands" you can be reasonably certain you can build the thing you want. If the answer is "Yes we found wetlands" you can use that data, along with your future plans to build on the property to see if you can reasonably avoid the wetlands and still do what you need to do on the property. The purpose of the wetland screen is to make informed decisions without having to pay for a full wetland delineation which may ultimately kill the project in the first place.
Wetland Screen Cost
There are two flavors of wetland screen. One is for non-agriculture land, the other is for agriculture land. The reason for the difference is the difficulty level of the different screens. Land that has been disturbed by row-crops is harder create good data and reports about and takes extra scrutiny.
Regardless of acreage:
Non-agriculture wetland screen cost is $1050.
Agriculture land is $2050.
Once I have a Wetland Screen, what happens next?
As I mentioned earlier, a wetland screen isn't good enough to submit to the Army Corp of Engineers or your county stormwater agency. It is however, the first step in the process of a full wetland delineation. We, or any other consultant you hand the report to, can use our work as the first step in the full delineation, should you need it.
Call A3E for Wetland Due Diligence
Whether it's wetland screens, wetland confirmations, wetland delineations or a jurisdictional wetland determination, A3 Environmental Consultants can get your project done. Call (888) 405-1742 or email us at Info@A3E.com and let's talk about your project.