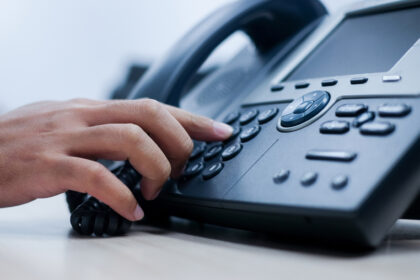 This article is how we chose Digium for our office phone service provider.
To start at the beginning of the thread, start here.
We talked about all the hardware and software that goes into taking a phone call. We talked about how your company is being judged, not on the quality of the scientific services you are selling but on heuristics that seem unimportant and unrelated to your services.
The phone call is the last stop on your marketing effort. You can perform brilliantly in making the phone ring and you can completely whiff the ball at the last moment based on who you staff the phone answering responsibilities.
Let's talk about personality types.
Scientists and engineers, not to mention accountants and other very stereotypical types are generally bad at talking to strangers. They are bad at small talk. They don't make people feel comfortable. They are about facts, figures, answers. What's more, they view themselves as having NOT gone to school to answer a damn phone. That's a admin job. Compounding the problem, they have pressures from the organization to be billable. They are neck deep in their billable work, consumed in the headspace it takes to perform at their best on a scientific problem and the phone rings and take them off their ball.
They get cranky, they get short. The phone call is short. They don't take the time to let the caller explain their problem. They don't ask good questions. They don't listen well.
You need to find the right person to staff the phones. You need to stay in communication with that person in the event they are getting overwhelmed. You need to elevate their responsibility for closing new sales OVER the responsibility for doing billable work. You need to tell them about this all the time and incentivise them to help clients and close sales over billable work. Management needs to be fully on board with this program.
Quite honestly, you might need to think about a new hire for the position.
At our company, I answer the phone. We sell scientific services, obviously, but I'm not a scientist. I'm a business guy and of all the "rushes" one could have at work, I geek out on closing sales, not doing the science. Any sales person with a reasonable level of intelligence can understand enough of what you are doing to sell it to a client. It happens all the time in this world.
But your company is small and you need someone to do double duty as a scientist and salesman.
Get the owner to do it.
The owner has the right level of passion for her business. The owner is also usually doing administrative bullshit like HR or accounting. Not that you don't need your full attention to any one of those tasks but the owner made a commitment to herself long ago that she was going to back away from doing science herself to do the more administrative tasks it takes to run a company.
What if your owner doesn't like sales?
Find the best, brightest personality on your staff and make them #1 in the calling queue sequence.
We are lucky enough to have me, the non-science guy, and another science guy who has an attitude like a ten thousand candle-watt light bulb. He's young but what he lacks in experience he makes up for in moxie. He's #2 in the calling queue. If we are both on the phone, the next inbound phone call goes to the owner. She does pretty well when she has to but will forward back a phone call as soon as she knows I'm off my call.
Recap: I'm the best at taking calls. I get every inbound call first. If I'm on the phone it rolls over to my second best guy. If he's on the phone, it rolls over to the owner. This is an important strategy, not a random accident.
Our phone system will also tell me if someone is coming to me from the sales queue or operator queue or calling direct with a message that plays briefly before the call is connected. This allows me to prepare myself for the conversation AND adjust how I answer the call.
If they are calling me directly I can say, "Hello, this is Tim" because I can be pretty sure they know me if they are direct inward dialing me.
If they are calling me from the sales queue I give the long intro. "A3 Environmental Consultants, Tim speaking". Don't fool yourself into thinking it doesn't matter how you answer the phone. It absolutely does and your entire staff should be trained to sound like professionals not some dude answering at the pizza joint down the street.
I also employ 3 different 800 numbers. When a client calls any one of the 800 numbers I prefix them on the caller ID so I know which one they called me from. I have a MAIN 800#, a WEB 800# and a DIRECTEMAIL 800#.
This is an old marketing trick to track how effective your marketing channels are.
The Digium software allows you to make automated reports that tell you monthly call volume on each of these channels. The reports can be emailed automatically to interested parties. I use these to track my effectiveness and the effectiveness of my advertising spend. You should too.
End: Phone System Thread
Phone System Customer Experience
If you find yourself needing an environmental engineering firm, we may not be the best choice, we're environmental consultants which is different. However, we are spectacular at what we do. Call us.