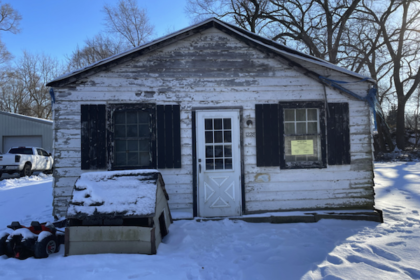 In January 2023, A3 Environmental Consultants (A3E) was commissioned to perform an asbestos containing materials (ACM) survey on a residential property slated for demolition in Aurora Illinois. The survey was critical to ensure compliance with federal, state, and local regulations pertaining to asbestos abatement and to protect public health and safety during the demolition process. The client was Kane County who was demolishing the property as it was unfit for human habitation.
Property Description
The subject property is a single-family residential dwelling constructed in the early 20th century. The house is a one-story structure comprising approximately 800 square feet of living space. The property is located in a established suburban neighborhood, surrounded by similar residential dwellings.
Scope of Work
A3E's team of certified asbestos professionals conducted a comprehensive survey of the property. The survey included a thorough visual inspection, assessment of suspect materials, and collection of representative samples for laboratory analysis. The primary objective was to identify and quantify asbestos containing materials present in the property, assess their condition, and provide recommendations for proper management and abatement prior to demolition.
A total of 49 bulk samples of suspect ACMs from 16 homogeneous materials were collected and analyzed using Polarized Light Microscopy (PLM) with dispersion staining. Asbestos includes chrysotile, amosite, crocidolite, anthophyllite, tremolite, and actinolite (fibrous minerals). The analytical report pertains solely to the tested samples. The reliable limit of detection for the method used is one percent asbestos content. If a material contains less than one percent asbestos, work practice requirements and prohibitions of the OSHA Asbestos in Construction Standard must be followed during activities where materials are disturbed, such as remodeling or demolition.
Key Findings
Of the building materials identified, only one, three square feet of brown 9″x 9″ floor tile remnants located between Bedroom 2 and Living Room, was found to contain greater than one percent asbestos, making it an asbestos-containing material that must be treated as regulated ACMs.
The survey focused on significant interior and exterior building systems and select exterior components with potential to contain asbestos. However, it is possible that additional suspect or assumed ACMs may exist within inaccessible areas of the building, such as above fixed ceilings, within wall systems, behind walls, beneath layers of flooring, roof core layers, within pipe chases, in mechanical equipment insulation, in electrical components, and within HVAC equipment; therefore, these materials may not have been observed or sampled during the survey. Any other suspect materials within the site building not sampled as part of this limited ACM survey should be assumed to be ACM until proven otherwise before future renovation or demolition activities.
Asbestos Management & Abatement Recommendations
Based on the survey findings, A3E provided Kane County's project manager with detailed recommendations for the safe management of identified asbestos containing materials prior to demolition.
Conclusion and Client Satisfaction
A3E's asbestos survey provided the property owner with the necessary information to make informed decisions about asbestos abatement and demolition activities. The survey ensured that all asbestos containing materials were identified and managed in compliance with applicable regulations, ultimately protecting public health and minimizing potential liabilities for the property owner.
The client expressed satisfaction with the professionalism and thoroughness of A3E's survey process. By identifying and addressing the asbestos risks associated with the property, A3E helped the client avoid potential regulatory fines and legal issues, while ensuring the safety of demolition workers and the surrounding community.
A3 Environmental Consultants prides itself on delivering reliable, accurate, and timely environmental consulting services. Our team of certified professionals is dedicated to assisting clients in navigating complex regulatory requirements, managing environmental risks, and protecting public health and the environment. For more information about our asbestos surveys and other environmental due diligence services such as Phase I ESAs, RSRAs or ESRIs, please contact A3 Environmental Consultants.
Client:
Location:
Services:
Asbestos Containing Materials Survey – (Click to download Sample Report)
Key Staff:
Patrick Hook – PG, Asbestos Containing Materials Inspector
Duration:
1 Day, 2023