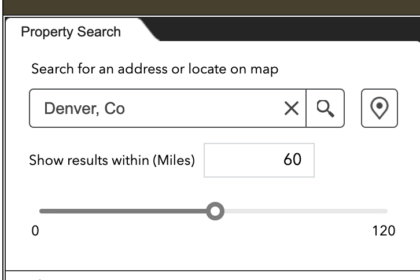 First, Welcome!
If you've been in the Environmental Consulting industry long enough you know people get awfully freaky about their list of Freelance Environmental Consultants. We're not that way. We want both the Indy EP's AND the companies that might need their services to be successful and to charge every penny the market will bare for the work they do. So stop feeling all weird inside as you're knocking around on our website. Call me and say hello! 630-507-9014 is straight to my desk and I'm almost always here. You can also email me at Tim@A3E.com.
Freelance Environmental Consultant Map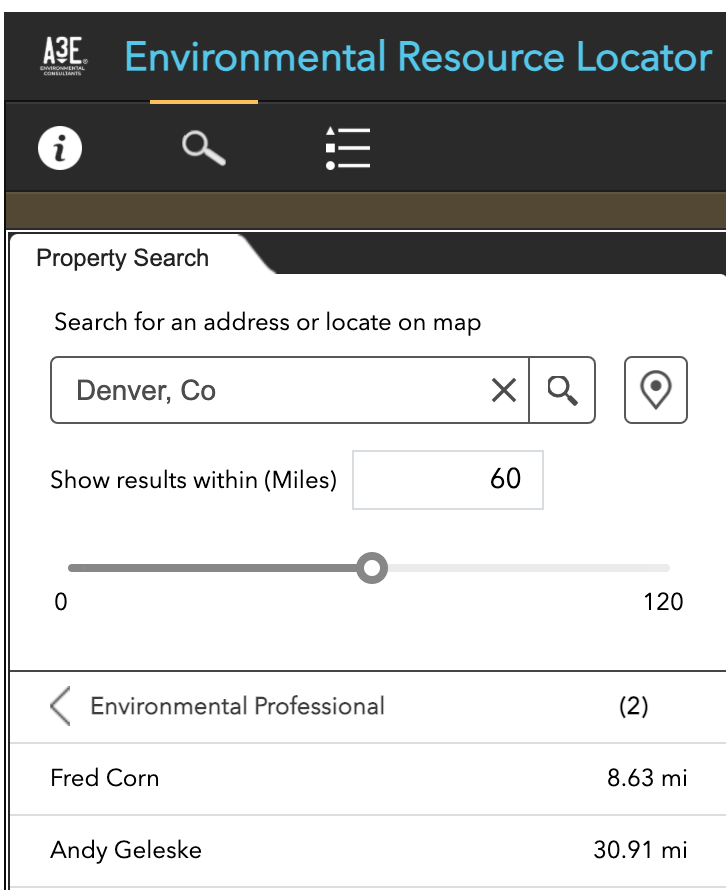 To see the map you'll have to log in. We need to keep a lid on the scammers and spammers and a username and password is the only way to do it.
Start by clicking on the search icon (it looks like a lollipop) on the upper left hand side of the screen.
Put in a zip code, or city and state, or a full address.
The map will bring up the address and a circle which represents a 60 mile radius.
Hopefully you will have blue dots and green dots in the circle.

Blue dots are Freelance Environmental Professionals
Green dots are Environmental Consulting companies. The difference is companies have employees, Indy EP's do not.

If you click on the chevron by the "Environmental Professional" box it will show you an email and phone number for the person named there. In the example we have to the left you can see Andy Geleske and Fred Corn. It shows you how far each is from the project.
We picked a 60 mile radius because when we are buying the services of an Indy EP, we try to pick someone inside an hour drive. 60 miles at 60 miles per hour is one hour. This radius makes a site visit possible from start to finish in about 3 hours depending on traffic.
You should notice the slider is set to "60" miles. We don't always have someone inside 60 miles so you might have to reset it to 120 miles which is a 4 hour round trip. Keep in mind, you'll probably have to pay a Indy EP more to go further.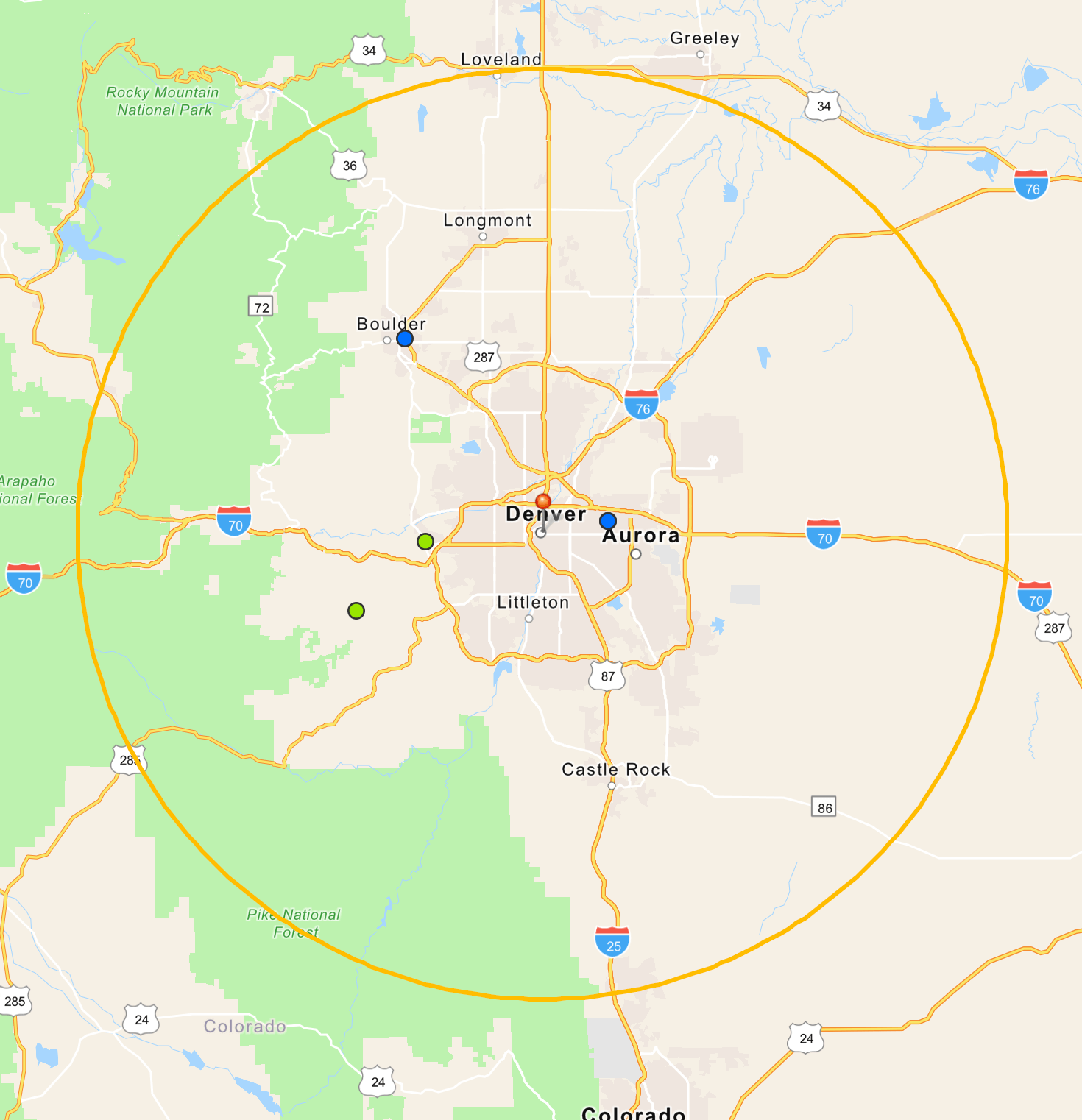 What to Ask? What to Offer?
Pricing seems to always be a sticking point when approaching an Indy EP to perform a job for you. Obviously scope has a lot to do with pricing. In order to be successful with this map you need to make everything easy, uniform and standard. Here's how we do it…
Phase I ESA Site Visit Only – General Information
Site visits are location dependent, reports are not. You can hire anyone to do a report, regardless of where they are but you need someone in the area to do the site visit. Separate the site visit from the report and price them separately as a buyer or seller.
Limit the scope. When we do these things our scope is very specific.

Get to the site, on time.
Take the appropriate pictures.
Come back.
Label the pictures.
Fill out the site visit survey.
Upload the pictures to our shared link.
Bill us.

Being specific about the scope lowers the prices our EPs charge us. When an EP is unsure about how hard a project is, the price goes up to compensate for the unknown.
We try to keep a lid on how far someone has to travel for a job because the further they travel the higher the cost. 60 miles is a good target distance.
Site Visit Only – Seller Specific
As a Freelance Environmental Consultant selling your services, you need to know you're not the only one who can do this work. There's a limit to what buyers are willing to pay.
There is an assumption built in to the "ask" that if you're a pro, you'll be out doing other projects in your area which means no project is ever really 60 miles away. They may be 10 from another project you're working on. These opportunities are incremental business. You shouldn't make them out to be harder than they really are.
Buyers can mentally calculate what your hourly rate is for any project. If there's a project that's 60 miles away. It will take you an hour to get there, an hour to get home and depending on how big and involved a site is, maybe 30 minutes onsite. That's 2.5 hours with 30 minutes for administrative of labeling your pictures, filling out the site survey and billing the client. If you price the job at $500, you're essentially saying "I don't want to do this job."
A fair price per hour of your time is $100.
Site Visit Only – Buyer Specific
Buyers – I would not negotiate lower pricing with the Freelance Environmental Consultant. A better plan is to get a price from the EP before you tell the client your price. Then, roll the EP's price into what you need to make, then bid. Inform the EP you have not won the work, and if they overcharge you, the client will pick another vendor and they won't make anything.
If you bid without knowing what an EP will charge you to get the project done, it's your fault not the fault of the EP.
Keep notes on who's good to work with and who's not. Give more work to the good vendors.
Share this map link widely. As a buyer of EP services you are benefitted by more providers in more areas across the country.
Report Only
Freelance Environmental Consultants are freelancers for a lot of reasons but one good reason is they are torn between where they live and where the jobs are for the skills they have. If you are looking for people on this list to write reports for you, I highly recommend you look for people who are living in small markets or non-existent markets for environmental services. A perfect example are my friends in Idaho and Jackson Wyoming. These people love where they live (or love who they live with) but have to travel huge distances to do do field work. Send them your report writing! They can even ghostwrite Phase 2 ESAs.