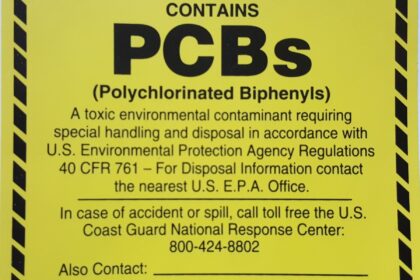 Public utility provider(s) in Northern Illinois rely on A3 Environmental Consultants to track waste streams, both hazardous and non- hazardous in their systems. A3E performs sample collection, analytical data reviews to determine the correct method for disposal of the material which includes incineration, grouting in place or final disposal at a Subtitle D landfill. The tracking, documenting, and manifesting activities are required by the USEPA and other local regulatory agencies.
PCB Hazardous Waste Tracking
Polychlorinated biphenyls (PCBs) are a synthetic chemical used for lubrication purposes in regulators and switches. It became apparent in the early 1970's this chemical compound was a carcinogen and the substance was banned in the United States in 1978 and by the rest of the world in 2001. These chemicals are ubiquitous in the natural gas infrastructure and as parts of the utility system reach the end of their service life, they need to be tested for the presence of PCBs. If they are found, they need to be disposed of properly. A3E is part of a team of project managers and consultants that manage the retired system parts in the infrastructure system. A3E's job is to organize Chains of Custody (CoC), evaluate the data and track the disposal of the PCB containing materials at the appropriate facilities.
Hydrovac Excavation Spoil Management
When working around underground utilities it's important not to damage the infrastructure while trying to open a cavity large enough to perform the necessary maintenance. A method called "hydrovac excavation" is performed where high pressure water is used to expose the utilities so hand digging or machines can utilized to safely perform excavation in the vicinity of the utilities. Hydrovac spoils or soil mixed with water is created from the hydro-excavation activities. Hydrovac spoils are considered special waste and either have to be solidified (dried out) prior to disposal and therefore cannot be disposed of while wet at a regular landfill as they will cause slope instability. A3E manages the hydrovac spoils and directs them to the appropriate facilities for solidification.
A3 Environmental Consultants collects soil samples in the area of excavation to create a soil profile in advance of utilities excavating to determine the method and location for disposal. A3E prepares and submits the sample profile to the Subtitle-D landfill or solidification facility for approval. Upon receiving the approval, A3E will manifest the soil to ensure the soils are properly disposed of. Finally, A3E keeps track of all the data in perpetuity. Having the soil profile stored for the future work drives costs down when additional work is performed on a utility location.
Client:
Public Utility(s)
Location:
Services:
General Consulting
Industrial Hygiene
Waste Characterization
Key Staff:
Dave McCoy – Professional Geologist, Final Review
Taylor Closen – Project Management
Duration:
2020 – Present
Value:
Estimated $200,000