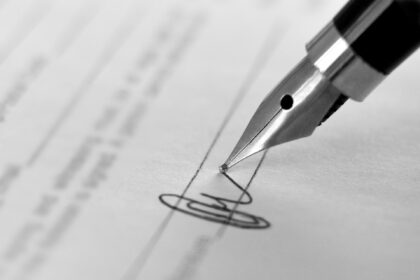 You're here because you need a SBA Environmental Reliance Letter. You most likely just had a Phase 1 Environmental Site Assessment done and now you're submitting it to the Small Business Administration (SBA) for approval. You also work for a bank or other financial lending institution and you don't do this very much. If you did, you'd have a blank reliance letter somewhere on your desktop ready to send at a moment's notice. Also, end users of Phase 1 ESAs hardly ever ask for SBA Reliance Letters themselves. No worries, we're here to help.
Let's get you what you need.
You can download a blank SBA Reliance Letter Template HERE.
It's a zip file of a word document which I cleaned up and added some color so you know who fills in what, where on the form.
While you're here, why don't you take a moment to learn something about reliance letters and why we need them?
Table Of Contents
What is a Reliance Letter?
A reliance letter is a document that goes with an environmental report which allows a named third party to "rely" on the findings which are in the report. Suppose you have a Phase 1 ESA done on a commercial property you'd like to purchase. If you contact me directly, we'll have some paperwork for you to sign before we start your project. In the paperwork it will say quite clearly that the report we make is for you, the person who is paying us. This much makes sense, you are, after all, paying us. There will also be a line in there where we say that just because you hand the report to someone else and just because the findings we find are whatever we say, no third party who has not signed our contract and paid us can rely on the findings we found.
At this point, you might be scratching your head.
Environmental Liability is Expensive.
As a professional environmental company we endeavor to do a good job for our clients but people who are not our clients cannot, for any reason, sue us for malpractice if they weren't party to the original transaction. If they could, no environmental consultant would ever be able to find insurance because they would essentially be defending against the whims of anyone who got their hands on one of our reports. Our insurance covers us for $5 Million in what's known as Errors and Omissions. It protects us forever too, so if our report is 20 years old and it's found to be wrong in some material way which we should have know about, our insurance company will cover it, even 20 years later. Everything I've described is standard practice in this industry. You aren't going to find an environmental consultant that doesn't have that clause written into their contract.
SBA Reliance Letters.
Typically, when we're engaged on SBA project it's by the bank putting together the package to submit to the SBA, not by the SBA themselves. The SBA is underwriting the loan but they didn't start the process. So if the environmental consultant makes an error or omission the SBA wants to be able to sue the pants off of them. The only way they can do this is by getting a signed SBA Reliance Letter from the environmental consultant.
Are There Non-SBA Reliance Letters?
Absolutely. You can download a Non-SBA Reliance Letter Template here. Smart lenders recognize when they are at risk from environmental liability and require reliance letters from environmental professionals. To be clear, most times we are engaged for a Phase I Report, the entity who is doing the requesting and ultimately paying us is the financial institution who is lending the money. In that case, there's no reason to get a Non-SBA Reliance Letter. However, "stuff happens" as we all know. Sometimes a bank hires us to do a Phase I ESA and the loan falls through. There are lots of reasons this can happen. The borrower can approach another bank to complete the loan but they'll have a Phase I Environmental Site Assessment from us, with the name of a competing bank on it. Smart lenders recognize the risk they are taking by lending on a ESA report when they were not party to the contract. In addition, the actual borrower in the scenario above can't rely on the report that was for his own transaction! If the borrower did not sign the contract, they have no right, by contract to rely on the findings.
Is There Any Cost to Obtaining A Reliance Letter?
This question deserves a nuanced answer. For SBA loans there typically is no cost for a reliance letter. The time between when we do the work and when the loan is made is usually very short and it's part of the process. For a Non-SBA Reliance Letter, the answer is almost always "Yes" there is an additional cost. When groups approach us for Non-SBA Reliance Letters often there's more time which has passed since we did the work. Also, we agreeing to take on additional risk and indemnifying parties who weren't part of the transaction in the first place. We typically charge a few hundred dollars for the cost of doing the paperwork and insuring the project.
Can I download a SBA Reliance Letter Example?
Absolutely. You can download a SBA Reliance Letter Example by Clicking here.
This example is for you to have a comprehensive understanding of how it should look, not so you can mark up our version. You can do that on your own. This version is password protected.
Have You Ever Heard of a Phase I ESA Going Wrong, where the Reliance Letter (or lack thereof) Was an Important Factor?
Absolutely. This is a great story (if you weren't a party to it) from an environmental lawyer about how a Phase 1 ESA can go sideways and badly so.
In the end, reliance letters are about liability protection and risk mitigation in environmental due diligence.
If you need a good environmental consulting firm, give A3 Environmental Consultants a call. We'll get your project done with the utmost in confidentiality, we'll meet or exceed ASTM Standards on any sort of commercial or industrial property. Our reports meet the requirements of all lenders and government agencies such as the Small Business Administration (SBA), Housing and Urban Development (HUD) and the United States Department of Agriculture (USDA). A3 Environmental Consultants can be reached at (888) 405-1742 or by email at Info@A3E.com.