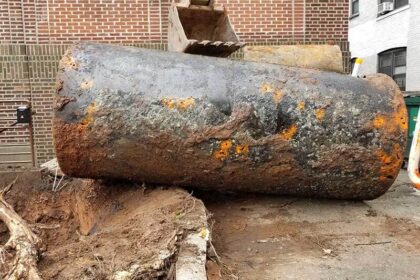 A Chicagoland environmental company performed a Phase I ESA as part of a refinancing program for an apartment complex in Chicago Illinois. In the process they identified two underground storage tanks (UST) which were used to serve fuel oil to the HVAC system in years past. A3E works hard to have friendly relationships with fellow environmental industry consultants and provides support for projects which are too big, too small and otherwise not quite right for our friends capabilities and skillset.
Heating Oil Underground Storage Tank (UST) Removal
The company handed off the project to A3 Environmental Consultants to perform the tank removal. A3E coordinated with the City of Chicago Department of Public Health (CDPH), Office of the State Fire Marshal (OSFM) and RW Collins, a certified tank removal contractor, to set up a time to remove the tanks.

The tanks were removed and a release was called in to the Illinois Emergency Management Association (IEMA) and the site was entered into the Leaking Underground Storage Tank (LUST) database at the Illinois Environmental Protection Agency (IEPA). Because of the distance the tanks were from each other they could have been called in as separate incidents but A3E negotiated with the OSFM to create only one record.

A3E performed the analytical on the tank cavities and the laboratory work proved there was no release.

Because of the nature of the tanks being used for heating oil, A3E outlined the options for how the client could proceed. The client opted to forego the LUST Program and instead exercise the heating oil tank exemption.
Client:
Residential Rental Property Landlord
Location:
Services:
Underground Storage Tank Removal & Closure
Key Staff:
Alisa Allen – Professional Geologist, Final Review
Duration:
2019 – 2020
Value:
$13,000