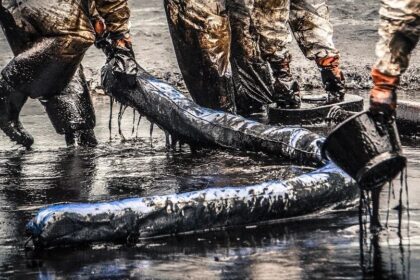 You've asked the internet what the best environmental cleanup companies are in Northern Illinois and the internet delivered you to the website of A3 Environmental Consultants. Full disclosure, we're environmental consultants. My first question for you, is what kind of environmental cleanup are we talking about?
In order to give you the best advice, I need to know a little more. "Environmental" is often synonymous with "Janitorial" and "Cleanup" is REALLY synonymous with "Janitorial". I need to make sure the environmental cleanup we are talking about is one of hazardous contamination to the soil or groundwater and not that you have a bathroom that would be better burnt down than cleaned.
If you have hazardous chemicals contaminating your property, read on. If your needs are janitorial, you should probably check out a company like Aramark.
Table Of Contents
Is your Environmental Cleanup an Emergency?
Call 911! Seriously, if you have an emergency your local fire department is designed to be first responders to Hazmat problems. If your environmental problem is not a eminent threat to health and human safety you should call SET Environmental. Their specialty is rapid response and environmental cleanup. If you just spilled a tanker-load of oil, they are the company you want to call.
If your environmental cleanup issue didn't occur today or in the last hour, keep reading because believe it or not, we're making progress to getting you the answer you need.
Commercial or Residential Environmental Cleanup Company?
If you're underlying reason for looking for an environmental cleanup has to do with your house, you really don't need an environmental engineer. You could possibly need an environmental consultant but it's rare. What you are probably looking for is mold, asbestos, air quality, noise or lead consulting and possibly abatement. These services are provided by a ton of providers for households across the country. Your best bet is to look on Angie's List.
If your needs are commercial, then by all means, please read on.
Do You Really Need an Environmental Cleanup Company?
If your need is about discovering IF you have a problem, you need an environmental consultant. If you have a really really big problem, we'll call one of our many environmental engineering companies we work with and find you the best person and firm to work with. It works exactly like it does in medicine when your regular doctor makes a referral to a good surgeon when you have a big problem.
What KINDs of Environmental Cleanup Companies Do You Need?
Before you can start making phone calls and talking with people who can solve your problem, we need to have a few ideas of what kind of problems you have. Each sub-category of environmental consulting has very good companies servicing the niche. So let's discuss the niches so we send you in the right direction.
How Big do Environmental Cleanup Companies Need to Be?
If you work for a huge company you need a huge environmental cleanup company to help you with your problem. If you work for a small or medium sized company, a huge environmental cleanup company will crush you in costs. Right-sizing the problem to the company handling it can go a long way in protecting budgets.
Is Your Environmental Cleanup Need Chronic or Acute?
Some environmental engineering needs are a routine chore like taking the trash out, others are emergencies and if they aren't emergencies, they are definitely under some kind of time crunch. Certain engineers excel at meeting routine (chronic) needs of clients because they can plan and schedule. Other engineers are rapid response and are geared to spring into action within 24 hours of being engaged.
So Who are The Best Environmental Cleanup Companies in Chicago Illinois?
Big Companies Solving Big Problems for Big Business & Government:
Fast Companies Solving Acute Problems:
Industrial Health & Hygiene Companies
Geotechnical
Ecology
What about an Environmental Consulting Firm for Residential Homes?
Sorry, I can't help you. That's almost a different universe from what we do. Check Angie's List.
Who is A3 Environmental Consultants perfect client?
Our perfect client is a business with under 200 employees or any sized financial institution who needs environmental due diligence, soil or groundwater testing to make sure the asset they are buying or lending on is not contaminated. If it IS contaminated, we can help too. Our clients value us because we can move fast and won't break the budget like some of the gigantic environmental companies out there. When you call A3 Environmental Consultants you'll get a person, typically me, and we'll talk through your problem right away. If we can't help you, we'll try to point you in the right direction.
If you need a good environmental cleanup company, give A3 Environmental Consultants a call. We'll get your project done with the utmost in confidentiality, we'll meet or exceed ASTM Standards on any sort of commercial or industrial property. Our reports meet the requirements of all lenders and government agencies such as the Small Business Administration (SBA), Housing and Urban Development (HUD) and the United States Department of Agriculture (USDA). A3 Environmental Consultants can be reached at (888) 405-1742 or by email at Info@A3E.com.