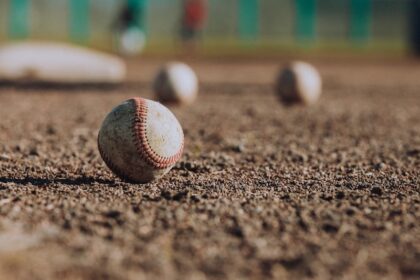 From the first time we held a ball we knew. The Crayons, Speak & Spell, the Slinky are all toys that could be played with in solitude.
…But the ball. The ball is no fun alone. You throw the ball, you need someone to catch the ball. That someone needs to throw it back.
And so it begins for so many of us. Life's first lesson in teamwork begins with sports and sports often involves a ball.
Formative Years
The bosslady, Alisa Allen, was a sports phenom. Middle school she crushed it in badminton and placed third in the state. She can still tear it up at a family picnic. The in-laws thought it was all fun-and-games at the reunion. She suggested a friendly wager. Uncle Fritz hadn't worked that hard in a 30 year career of bricklaying. He damn near blew an aorta chasing Alisa's returns. Grandma says it wasn't the lost $50 that stung him, it was losing it to a girl. It was a month of Sundays before she was invited back. Badminton gave way to a full ride in basketball at Lawrence University in Appleton Wisconsin.
A3E's Director of Remediation, Dave McCoy, rowed on a team during college. Those graceful slender rowing shells sliding through the liquid glass as the oars swing in unison.
Brian Englert, the anchor of A3E's environmental due diligence, was responsible for 800 projects last year. He was also a collegiate swimmer and currently a swim coach to high school kids.
How We Roll
Our sports pedigree runs deep, these examples are just a sample. What we learned on the court, the field, the river and pool has translated perfectly. We win as a team, we lose as a team. And, don't lose. The team isn't exclusively whoever is on the A3 Environmental payroll. Our vendors and subcontractors, our service professionals and clients are all part of the team. Environmental consulting is rarely the end of a project. We fill in a gap between the sale and purchase of a property or the demolition and construction of a facility. Our schedules are dictated by general contractors, private developers, banks and financiers. We're often doing the preliminary work on an elected official's vision for a better future for their city, county or state. Our work needs to convey confidence to the general public and neighboring stakeholders that when we are finished, contamination is contained or removed. We use science to prove beyond our good reputation that the job is done correctly. Our wider team is whoever needs us to perform our work, quickly and properly to get the bigger picture completed, on time and on budget.
Back to the Ball
And yet, it still comes back to the ball.
Teamwork is communication which we often describe as; "the ball is in our court". When we hand off our reports and the results of our laboratory work to the engineers, architects and elected officials we have "passed the ball". When our highly capable project managers are working hard to schedule work around other stakeholders and contractors, we are "juggling balls". As we work through questions, comments and concerns of the wider team, we speak of "balls in the air". With every throw, there needs to be a catch and a throw back to the thrower. This is how we use teamwork to get projects done.
If you hire us, you will find, not only can we get your environmental project done, we know how to play ball.