I work for an Environmental Consulting company and I "do" marketing. There's 14 of us here and we all have to wear a lot of hats to keep the business moving forward. So for the sake of clarity, I'm in marketing because there's nobody else to be in marketing, not because I'm amazing or distinguished in any way.
But let's be clear, that's the life of an entrepreneur. We fill in, in whatever capacity needs us, to the best of our abilities, even if those abilities are sub-par. Most times there isn't the money for "experts" to come do my homework for me. My team gets me, and the best I know how to do, even if my best is total crap.
Advertising Philosophy of the Scientific Services Industry
What passes for marketing in the engineering, architecture and environmental field is pretty terrible. I should start collecting samples of the terribleness to show people but that might be unkind. It would appear to me the industry is convinced that the best way to impress clients and get work is to explain ad nauseam how VERY SERIOUS WE ARE. There's a heavy dose of industry jargon in everything we write. Its as if we were sure the right way to win work was to buzz-word our clients to death.
The second thing that passes for marketing is the experience. White-papers as they are called, talk about projects, problems and solutions. It's always good to keep a ton of white papers around for every vertical market we work in because God knows, you might have pulled a thousand leaking underground diesel tanks but if you haven't pulled one for a railroad client, well, then we can't hire you because you don't have any "experience".
The problem with white papers is they are entirely forgettable. Company XYZ did [thing] for Company YZX and the villagers rejoiced.
I try to remind myself how these companies in this industry got started and what makes them continue to be successful.
There was some person who decided to break out of Corporate America™ and go on their own. To do so they had to work their asses off. In consulting, billable hours is the name of the game and it becomes an obsession. Every 'body' you add to the team roster needs to be billable which means you are hiring scientists and technicians. It takes a long time to get to a level of revenue where you can afford what the technical team calls "overhead" which is accountants, business development, marketing, and human resources staff. The scientists didn't go to school for marketing, not because they can't do it, but because they didn't like it. People want to do what they want to do because it makes them happy. They see themselves from the outside looking in and think, I'm a [fill in the blank] architect, chemist, engineer, geologist…
Becoming an entrepreneur moves you away from the thing you trained for and into all sorts of work you might hate. For my part, I hate accounting but sales and marketing is pretty fun.
My Advertising Philosophy
I've actually given this a lot of thought. I don't mind advertisements. I'm the guy shushing my friends when the commercials come on at the Super Bowl Party. I believe everyone likes advertising, provided it's GOOD advertising. If this is true, then we need to explore what makes good advertising good.
Humans are emotional animals that sometimes think. Speak to the audience's emotion. Comedy, love, pride, patriotism, fear, jealousy, belonging are all emotional. There are literally dozens of distinct emotions people have. Pick one per advertisement and hold it. I have two favorites, comedy, and love.
Humans are tribal. Family, country, religion, sports teams and a whole host of what are now called "intersections" are really just neo-tribal relationships. Advertisers use our tribal nature in one of two ways. You are either:

In our tribe
Not in our tribe (but could be), if you only owned product X
Not in our tribe (and never will be).

This is the converse of the one above. The only reason people want to be inside the velvet rope is because there are people outside who can't get in. Take away the people outside and there's no interest in being inside.

I believe there is too much advertising, taking too much time and too many words, to say too little.
I believe the best advertising doesn't shout what they want you to know, it whispers to make you pay attention.
A picture is still worth a thousand words.
A video likely a time-suck.

The people who spend the time to watch your video or listen to your audio are few and far between.

You have maybe 2 seconds to make an impression.

Generally there are only 3 impressions ads make: Good, neutral and annoying.

Repetition, when placed too close together is annoying no matter how good the ad is.
There are only two goals of advertising, get noticed, be remembered.
Advertising I admire
There's a lot of different advertising mediums but inside the world of small business, the one we can typically afford is print. So if asked what I admire about print I immediately think of a business book I read called "Getting the Bugs Out. The Rise, Fall, and Comeback of Volkswagen in America". This book was highly influential on me but I can't tell you if VW's ads sent me to the book or if the book drew me to their ads.
Why I like this advertisement.
For people who don't like to read, the best ad elements on this page is the car itself and the logo in the right corner.
Hardly-Readers will notice the car, the logo and the word "Lemon" which everyone knows is slang for a car that was built badly from the start and showed up broken. This creates cognitive dissonance, a "wait, what??" moment that draws a reader in to read the rest, even if they don't want to.
For the readers, the text explains why this car didn't meet VW's exacting standards which signals how much they care about quality and customer service. Essentially, they tricked the reader into leaning into the message where they made an impression that was favorable. At the end, the reader is amused by the ad and understands VWs message.
In all the noise of the world around us, this ad created a quiet space where they whispered their message and it got across better than if they tried to tell you everything they wanted you to know.
In western society, we read from top to bottom, left to right. If you compress this pattern for time, we read from the top left corner to the bottom right corner. If you draw a straight line between the top left and bottom right corner, your eyes cross over the car, the word lemon and the VW logo. It takes a fraction of a second for them to set the hook and make you read the whole thing.
My Impression of VW's ads, translated into the Scientific Services Industry.
The black background creates quiet space.
The white text with barely any words whispers what I want the client to know
To an ecologist in the midwest, a rainbow dace is a common, small fish and a water quality indicator. If you know this, you're in the tribe who "gets" the humor.
What constitutes a "happy dace" to the extent a small fish can be happy makes you need to read the advertisement.
This is in homage to a very well done commercial by Discover Card. "Frog Protection"

I'm not too concerned if people don't know the commercial, it works regardless.

Anyone in ecology would never use the term "Frog Detection". It's not a professional term. I'm trying to slightly annoy the scientists here. In the marketing department we pretty much get to do whatever we want. The scientists are typically the rule followers. My job is to be remembered and if I have to annoy you slightly to do it, well, consider it done.
I like the symmetry and alliteration of "Inspection, Detection Protection".
If you had to explain a habitat assessment to a eight-year-old, inspection, detection and protection is what you'd say.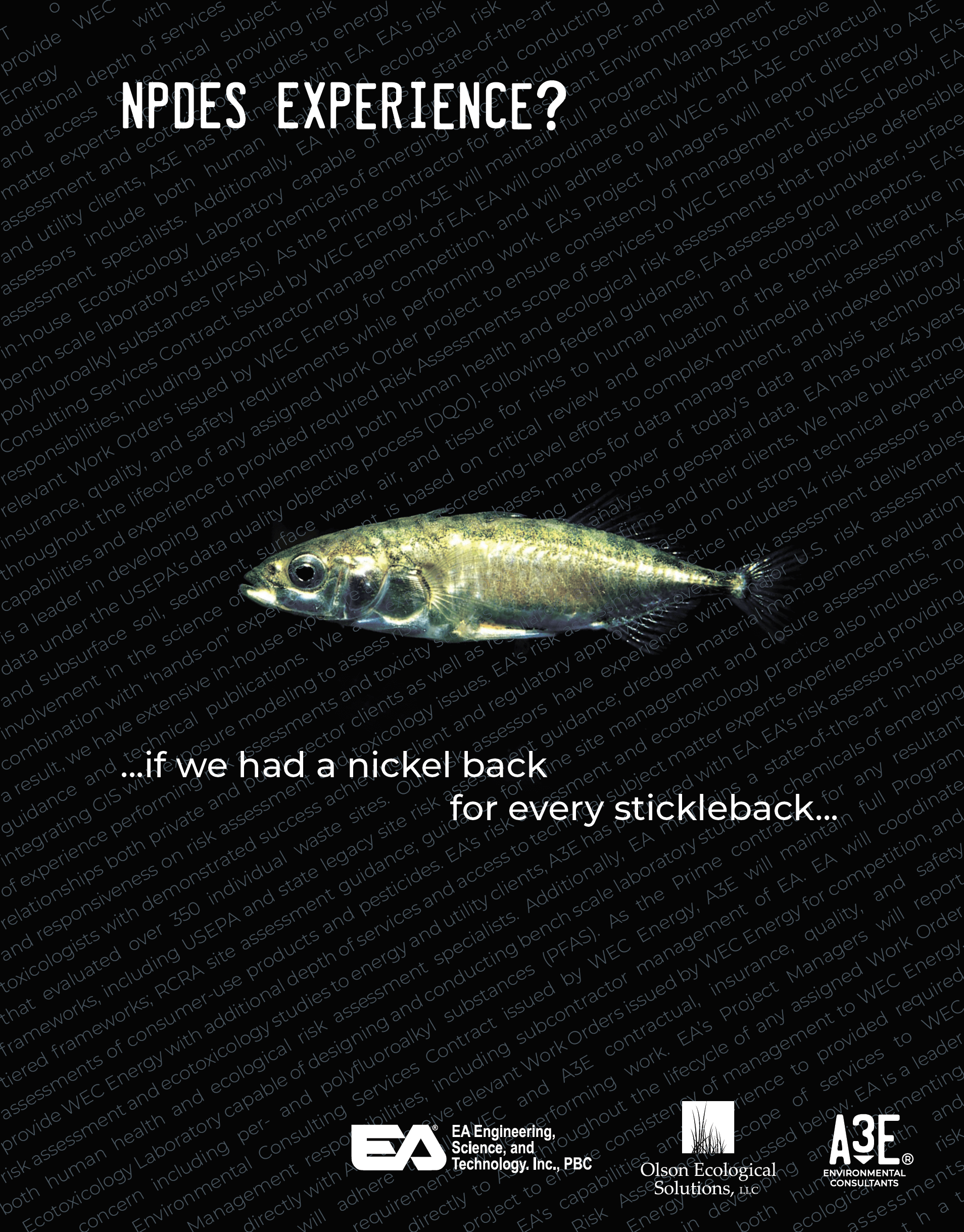 The major points of this ad run from top left to bottom right.
I call on a common idiom in western culture, "If I had a dime for every… … I'd be rich". Is one way we make the point that we have a lot of experience with a particular thing.
A stickleback is a small fish and water quality indicator. If you know that, congratulations, you're in my tribe. If you didn't know that, now you do, you're in my tribe.
The grey-scale text going from the bottom left to the top right is the opposite of everything good about advertising. It's a wall of jargony text running the wrong way to be read, it runs off the page which makes it lose context and become unreadable but if you look closely you can see words and phrases that drone-on ad nauseum about our capabilities.
I got the point of everything written in the background across to the reader with a picture and a fragment sentence.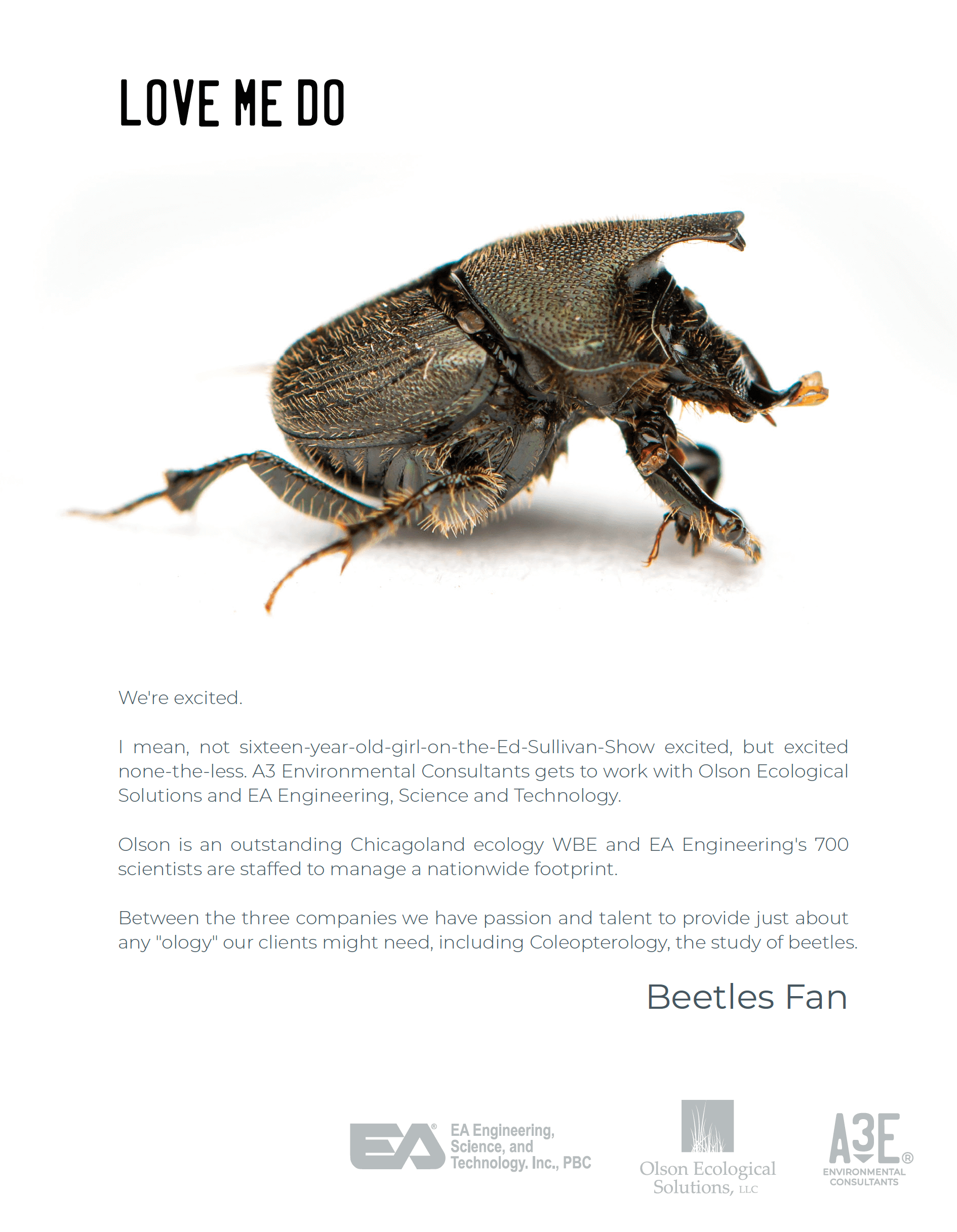 This ad is my all-time favorite. I was able to pay homage to my favorite advertising from Volkswagen, namecheck the "Beetle" car, reference the "Beatles", tell everyone how nichy our skills are while explaining how broad our services extend and talking about how great it is to be working with our partner companies.
If you got this far you're probably wondering where these advertisements are placed. They have no call to action, they have no phone number or email address.
We use them inside our bids. We big on big projects for utility clients and big businesses. They get read by a handful of people who choose who wins the bid. I don't need calls to action or phone numbers because everything in the bid is about us.